Life at JINIS
ENVIRONMENT
Life at JINIS
ENVIRONMENT
Locaton

A unique, natural setting where international children
can explore and discover the world around them.

Jinseki Kogen is nestled in the Chugoku Mountains, the setting of many Japanese myths. In a secure and safe environment, our children can experience beautiful waterfalls, rivers, and mountain views. It is the perfect location to nurture the five senses, foster environmental responsibility and embrace the natural world.
The area of Jinseki Kogen is an abundant source of fresh, nutritious food that is beneficial for both children's diet and growth. From local produce and beef to the marvelous stock of seafood from the Setouchi Inland Sea, our children will be offered healthy, balanced meals each and every day.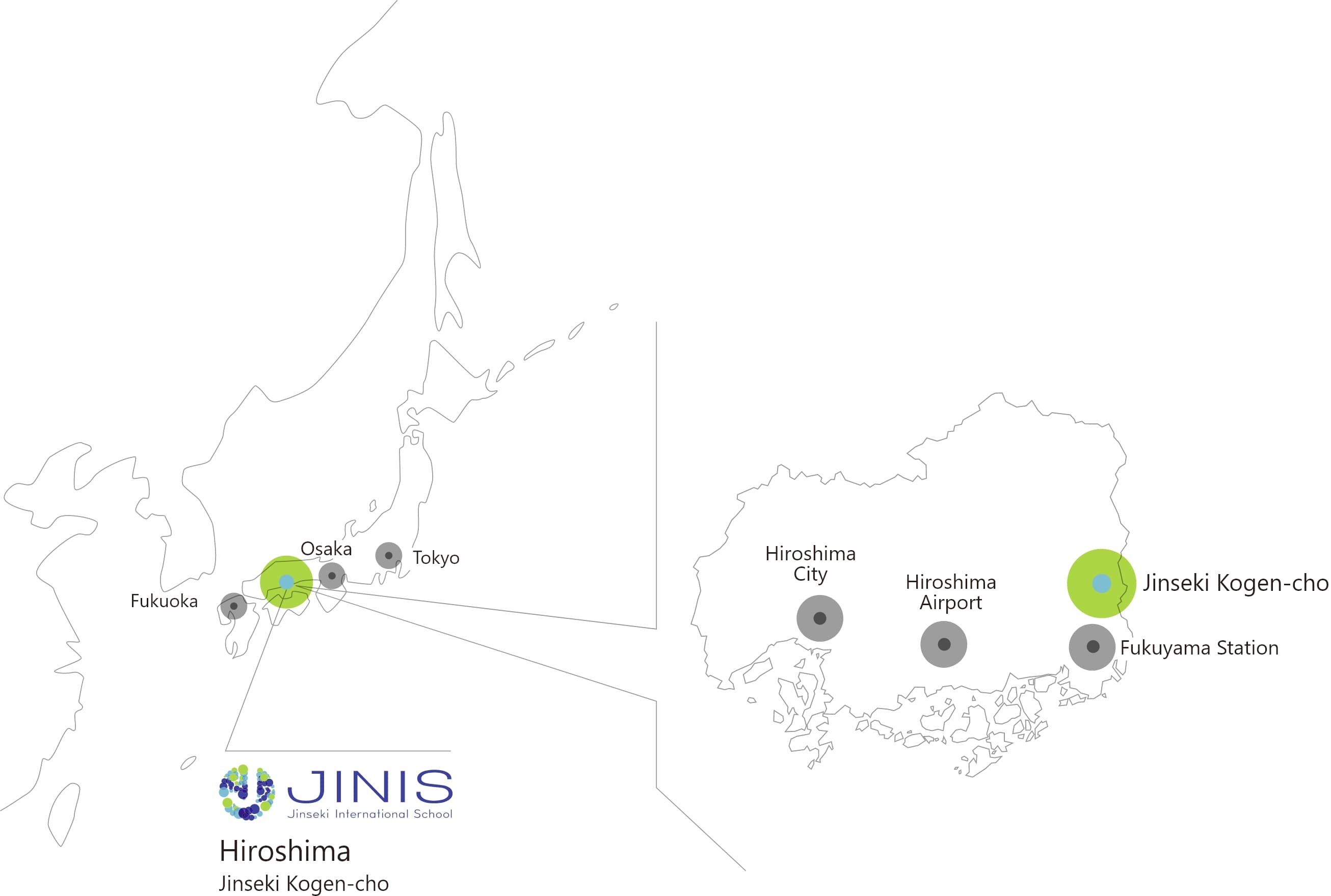 Located to the south is the Ohama Sea Park. Children can enjoy playing or relaxing on its white sand beach overlooking the stunning Setouchi Inland Sea. To the north, the Nekoyama Snow Resort caters for all levels of ability—Beginner to Advanced—with a ski season that lasts from December to March. These are just two of the outdoor facilities we have affiliations with.
The City of Hiroshima, where children can visit a World Heritage Site, the Atomic Bomb Dome, within the Peace Memorial Park, is a 90-minute drive west of Jinseki. Neighbouring Hiroshima City is Hatsukaichi, which is home to another World Heritage Site, Itsukushima Shrine of Miyajima.
Hiroshima is a flourishing city that boasts deep artistic roots. It prides itself on housing the Hiroshima Symphony Orchestra, as well as many museums and art galleries. The city also supports their professional sports teams such as the Hiroshima Toyo Carp baseball team and the Sanfrecce Hiroshima football team. Hiroshima is a beautiful example of a city that has it all—history, arts and culture.
SEA PARK OHAMA

90 minutes by car

Shimanami Kaido

80 minutes by car

Hiroshima Symphony Orchestra

120 minutes by car

Jinseki Kogen Country Club

5 minutes by car

Nekoyama Snow Resort

60 minutes by car

OHARA MUSEUM OF ART

80 minutes by car

Izumo Taisha grand shrine kaguraden

150 minutes by car

Miyajima

180 minutes by car

Koshinji Temple

15 minutes by car

Hiroshima Toyo Carp

120 minutes by car

Sanfrecce Hiroshima

120 minutes by car